Web GPS tracking for business and private use
Internet based - accessible from everywhere, at any time.
Wide range of supported devices.
Possibility to extend the functionality according to customer needs.
Exclusive reliability, thanks to the latest IT technologies. Guaranteed 99.95% service uptime.
Super-competitive prices.
Pay only what you use when you need it.
Basic
€6 monthly
✔

Tracking Device - €79

✘

SIM card + data plan

✔

Tracking Platform
Leasing
€12 monthly
✔

Tracking Device - Rental

✔

SIM card + data plan

✔

Tracking Platform
The leasing contract can be canceled at any time with sending back the device and the SIM card. Delivery costs are not included and vary depending on the country of delivery.
What is necessary to use it?
GPS/GPRS device - it can be even a cell phone (with internal or external GPS) or one of these devices.
SIM card with data plan - choose a local GSM operator at your discretion.
geotrack24 account - with each new account you get 5.00€ free credit, enough to test and evaluate the service.
We combined three ubiquitous technologies to make this possible -
Internet, GPS and GPRS
(cell phone network). Internet provides 24/7 online service, GPRS provides communication channel to transfer data from devices to our server and GPS provides global position coordinates.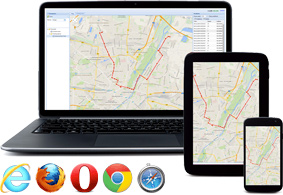 Share information with partners and friends.
FREE GPS TRACKING
To start there is no need to pay, each new account is with 5.00€ free credit.